SMALL
STEPS
COACHING
Our mission is to provide unique, high quality coaching and consulting for organizations and individuals who are passionate about learning and growth.
OUR
VISION
Growth, development and quality are our core values.
We believe that coaching is a very powerful tool in helping people to develop and grow by challenging their limiting beliefs, be it in their personal or professional life, in order to achieve their full potential.
Coaching has already proven its huge benefits in the United States, Canada, Europe, Australia and parts of Asia, but is fairly new to China. In China there is still lack of information on what coaching is, and how it can benefit both individuals and companies.
We are passionate about our work.
We aim to spread the benefits of coaching in China and we want to be a company at the forefront of the development of coaching and consultancy in China.
Quality in all our work is paramount:
We are strong believers in a personal approach adapted to suit each client's needs in order to provide them with sustainable customized solutions.
We constantly improve the quality of our services based on study, research and client feedback.
We believe that quality also means 'walking the talk', thus we constantly invest in the development of our own people.
Small Steps make a big difference.
TESTIMONIALS
"
Dalida is a very patient, non-judgemental listener. Her comments are incisive and thought-provoking in a way which leads one to consider other angles and options available. One thing I particularly admire is her ability to receive feedback without being defensive, which allows for real exploration of issues. Coming away from a coaching session I have a real sense of being listened to and invariably have a number of previously unthought of options to deal with work issues. "


Sean Power, British Council Thailand


"Practicing Neijia with Liu Shifu and Dalida Turkovic has had strong effects on my professional as well as personal life. In my professional life it has enhanced my focus, giving me physical and mental energy to deal with daily work tasks and more importantly it strengthened my ability to cope with stress. Through practice I finally reached a work-life balance, which enabled me to fulfil and realize inner desires and needs that had been neglected for years. Overall I experienced much greater inner calm through practice. "
Hanna Boehme, Managing Director


UPCOMING
EVENTS
Neijia Life Coaching
Group Coaching with focus on
health, confidence, intuition
For more information contact
dalida@small-steps-coaching.com
IN
MEDIA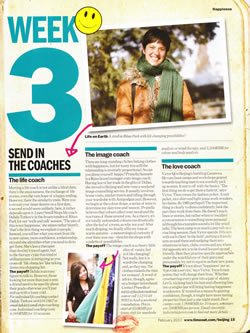 NEIJIA LIFE COACH
AGENDA
TIME OUT
CITY WEEKEND
BTV
Read More